I'm

Ignasi Ayats

. Graphic designer with a critical and speculative perspective. This is a selection of my works from college and as a freelance. You can give me feedback or just contact me at ignayatsoler@gmail.com
PROJECTS Selection of projects from college and as a freelance

(CLICK ON THE PROJECT TO SEE MORE PICTURES)



FILTER:

Graphic Design

|

Speculative Critical Design




Adlego is a critical-speculative project developed with the aim of generating social debate around the current electoral system, a system based primarily on image, marketing and advertising. To achive it, an new electoral system has been developed, focused exclusively on political content, eliminating the image of political parties. It is a reflection on how graphic design participates in politics. And how can design trigger critical thought.



Selected to exhibit the project at Blanc Festival

Year: 2019




Speculative design
Design of Post-inertia summer school developed with Port-0 and Becoming within the frame of a European Project.
Post-Inertia is a summer school / colective experiment aimed at critical inquiry and exploring the role of speculative design in the current moment of social re-stabilization. The school will have two simultaneous levels, a general one focused on speculative thinking and practices, and a more particular one, where this knowledge will be applied in smaller groups, to the particular areas Technological Democratisation, Ecological Transition, (bio)Practices and Care & Affect.
Year: 2020
www.port-0.net
Pedagogy & Identity | Speculative Practices
Control Wars is a collaborative-fiction playful research space designed to explore the weird, eerie and hopeful potentialities of our convulsive times. It uses low-frequency conflict, performance and collaborative storytelling to expose often contradictory emerging scenarios pulsating on our present, where different ideological agendas and understandings of what technology could and should be, are confronted.
Offers a framework to imagine possible technopolitical systems where these tensions are consolidated in more or less stable worlds.
Development of the game with Becoming network, and the symbolic alphabet within MADD elisava Master with Aleix Artigal.
Year: 2019
Symbolic Alphabet |
I

dentity
In this project we developed a typography for Vox, the Spanish far right party. It was conceived as a critical design project. The main idea to develop it was to associate it to the visual imaginary of Nazi Germany. For the specimen, pieces of political merchandising were developed, such as a flag, stickers, posters,etc. The aim of the project is to

equate the two formations to

make obvious the danger that poses the new extreme right parties. And to trigger social debate around this topic.



Year: 2019




Typography | Critical design




EINA



Identity for a Catalan food design school that works with 5 senses cuisine. The naming project was inspired in Ramon Llull's philosophy on senses, Afat is the sixth sense, and according to his writings, is the one that puts together all the information gathered by the other 5 senses. That multisensorial approach to food is what we wanted to show with the name. For the visual, identity we created a typography using a fork. We developed editorial and environmental graphics for the school.

Year: 2018
Typography | Identity
EINA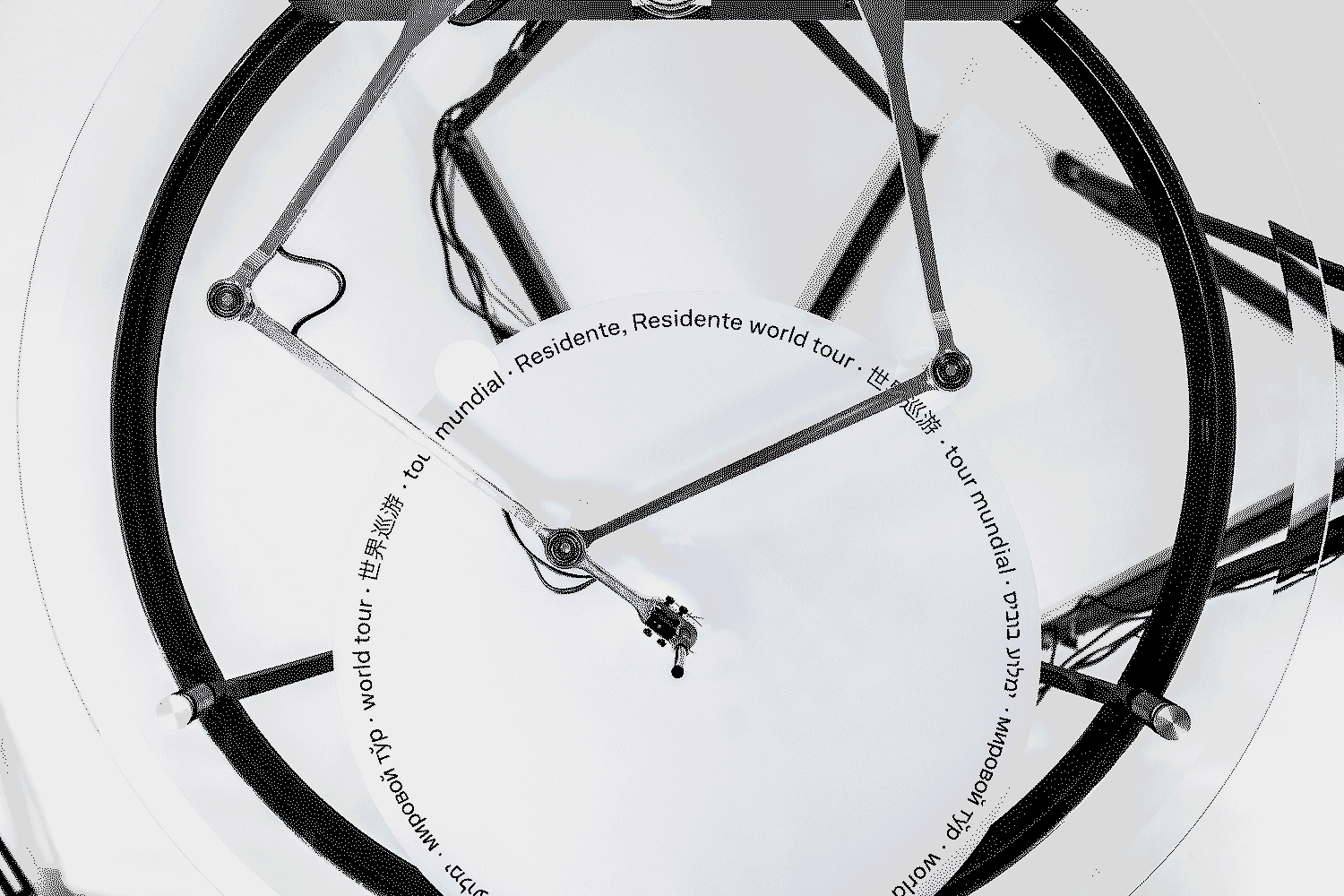 Identity for the musical project of rene perez called residente."i decided to make music based on my dna, so i traveled the world. We are all residents in the spaces that confine us. There are no borders". For the identity the main concept was the idea of migrations, people going from one place to an other inside the same circle that represent this space that confine us. We used a software that tracks life migrations and the idea was to use a machine to draw all those movements in real time. The main concept was to create a ongoing identity based on the migrations happeninng during the project and tour.

Year: 2019
Brand | Identity
EINA
[en]
For the last 4 years I've been focusing on how design could shape and transform society through reflexion, reserch and consensus. Using design as a link between the diferent agents capable of making that change possible. Designers themselves are not able to generate radical modifications at the structural level but they do have the capacity to motivate social debate around the issues that configure a society.



[es]
Durante los últimos 4 años, me he centrado en cómo el diseño podría dar forma y transformar la sociedad a través de la reflexión, la investigación y el consenso. Usar el diseño como un vinculo entre los diferentes agentes capaces de hacer posible ese cambio. Los diseñadores en sí mismos no pueden hacer modificaciones radicales a nivel estructural, pero tienen la capacidad de motivar el debate social en torno a los temas que configuran una sociedad.
[cat]
Els darrers quatre anys m'he centrat en com el disseny pot donar forma i transformar la societat mitjançant la reflexió, la recerca i el consens. Utilitzar el disseny com a enllaç entre els diferents agents capaços de fer aquest canvi possible. Els propis dissenyadors no són capaços de generar modificacions radicals a nivell estructural, però sí que tenim la capacitat de motivar el debat social entorn dels temes que configuren una societat.